setelah pencarian dari mulai bulan maret 2010 dan melihat lebih dari 20an nouva, akhirnya...eng ing engg..... here it comes:
si puteh
terimakasih buat semua temen2 yang telah membantu mewujudkan ini, baik berupa ngeliatin langsung maupun informasi dan segala doanya. Akhirnya ngambil nouva punya temen sendiri aje. Semoga saya dapat melanjutkan pemelihaarannya dengan baik ya om akbar....semangattt
DEALLL!!!!
dapet nouva eks artis
foto pertama setelah pengambil alihan
Back to 4 x 100 pake velg pinjeman Rep 5zigen FN10R dan OEM Headlamp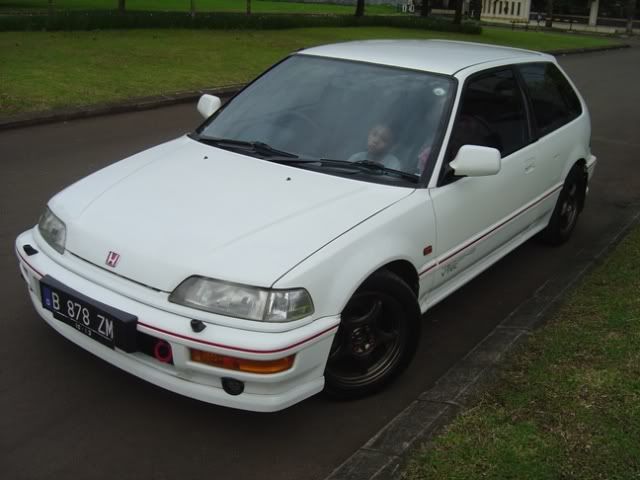 with Roof Rack
MOTOR magazine Nov 2010
With new rims Bridgestone SIEG 4S 15"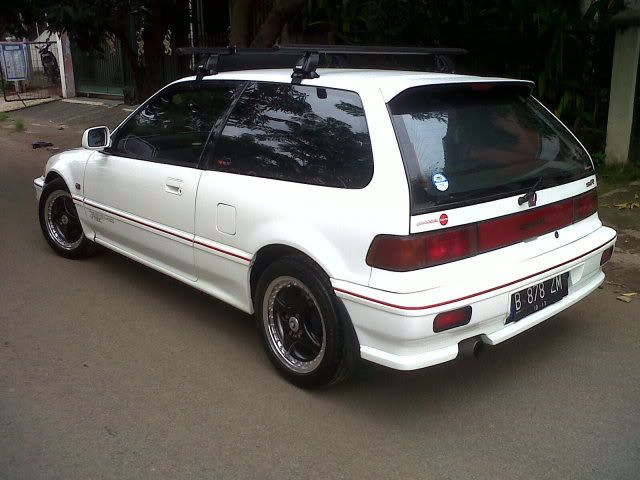 maret 2011 bikin lebih rebah dikit dan lepas stiker di sein bemper depan
April 2011 with WORK RS Aplha Rims and custom hood bra
Januari 2012 with WORK NR four 15"
Februari 2012 with Nippon Racing Japan 16"
MAret 2012 with Enkei Mesh 16"
September 2012 berubah total dengan repaint dan pake hartge 16"
syuting iklan TOP1 november 2012 dengan velg mugen MR5 15" pinjeman
Februari 2013. kekomporan pake Sparco racing N1. 16" dengan lebar belang 7 dan 8. offset 38
spek sekarang:
Interior :
- OEM Civic EF3 Front Seat
- OEM Civic EF9 Rear Headrest
- OEM Civic EF7 Door Trim and Switch Power Window set
- OEM Civic EF9 Sun Visor
- OEM Civic EF9 Coin Holder
- OEM Emergency Flare with glass braker
- Honda Access Floor Mat
- Honda Access Roof Console
- Honda Access Arm Rest
- Honda Access Switch Rear foglamp
- Honda Access Switch Front foglamp
- Honda Access Switch Cluster Dimmer
- Honda Access Switch Light Pole
- Honda Access Switch Retractable Folding Mirror
- Nardi Deep Corn Steering Wheel
- Mugen Pedal Set
Eksterior :
- OEM Civic EF9 Front Lips
- OEM Civic EF9 Rear Lips
- OEM Civic EF9 Rear MudFlaps
- OEM Civic EF9 Sideskirt
- Honda Access Front Foglamp
- Honda Access Rear Foglamp
- Honda Access Wing Spoiler with Brake Lamp
- Honda Access Center Spoiler
- Honda Access Retractable Folding Mirror
- Honda Access Light Pole
- Honda Access Headlight Washer
- OEM SiR Decal
- EOM PGMFI SOHC VTEC Decal
Mesin :
- D Series 1300 cc Engine with Head P08 Vtec
- OEM Honda Civic EF2 Dual carb
- PS91 CraneCams Fireball Coil
- NGK Spark Plug wires
- Samco Radiator Hose
Kaki Kaki :
- GAB Sport Front StrutBar and Tanabe Rear Strutbar
- Eibach Spring
- LIPS Adjustable Shock Absorber (rear)
- OEM Civic EG Rear Disk Brake
- Rear adjustable Cember Kit
- Sparco Racing N1 16" Rims
- Acchiles ATR Sport 195/50/16
Sound system:
- HU Pioneer DEH 7250
- 4 Channel Power
- 8" Box Sub with 2 way speaker MBQuart
- Altec langsing coax Speaker for rear